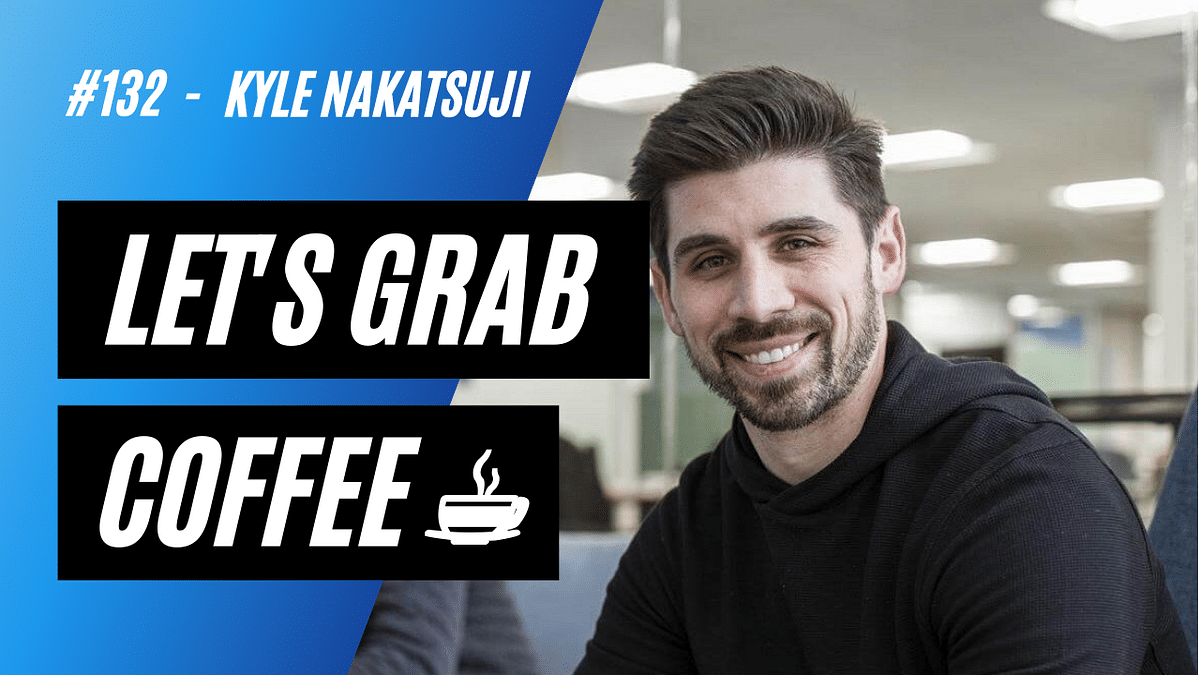 A coffee chat with Kyle Nakatsuji, the CEO & Cofounder of Clearcover - an auto insurance company that uses technology to create a better cost structure and offers customers a better experience for less money.
Prior to starting Clearcover, Kyle helped launch a venture-capital fund at American Family Insurance. He convinced the insurer to invest in video-doorbell startup Ring, which was later acquired by Amazon for $1 billion. He later convinced his former employer to back his car insurance startup, Clearcover, which he co-founded in 2016. Kyle believed he could carve out room for a new car insurance company amid giants such as Allstate, State Farm and Geico by creating a low-cost, low-hassle, millennial-friendly product and a low-touch, high-tech business model. The Chicago-based company has grown to more than 400 employees and sells in 19 states. It has raised $330 million (source: Crain's Chicago Business).
There was no eureka moment 💡
Every startup's origin story is some post-facto of all the things you actually discovered along the way and then mash up all of your learnings into what you already knew theoretically from the very beginning. As a founder, you take many small discoveries and large mistakes and compress them through time to craft a eureka moment when telling the story. But the reality is we had an inkling, a theme in mind, of how you would build something enduring in this space - and then went out to build it.
The early days...
The insurance industry isn't very customer-centric, it's old, and has been around for a long time. Traditionally, insurers tended to have a bend towards incrementalism i.e. working on the next thing that modestly improves some massive part of the business but leads them away from customer-centricity in the long term.
We found that to win at this game, your customer-centricity needs to stretch over a long period of time (20-30 years), and not just be the cool thing you do today. The KEY to doing this for us was cost structure. In addition to that, you have to stop doing the old things while finding room to implement the new things. We started with a blank slate -- and being able to use new technology versus having old legacy systems to deal with.
The winning formula: run your business at a lower cost = leverage the increase in economic surplus = invest that economic surplus in whatever that customer-centric thing was at the particular time.
Increasing the surface area of your luck
You can't force yourself to be lucky but you can increase the surface area upon which you might get lucky. For me, studying law, working at American Family, and being around entrepreneurs increased the surface area upon which I was able to get lucky. Lucky in the sense that I was able to;
- Stumble on an idea that made sense
- Work with somebody that helped me think of things in a different way
- Meet someone that was willing to bet on me early in my career
You can't manifest these things into existence, but you can do things that help grow the surface area for those moments to happen in your life.
4 pillars to deliver a superior customer experience
Transparency
Convenience
Affordability
Value
They have to exist in balance. They're not singular entities. Listen to customers and build your business around what they desire and what balance means to them. It's a tricky proposition to get right. For Clearcover, affordability (among the other 3 pillars) matters the most. If you think about the insurance hierarchy of needs, a reasonable price for an already-commoditized product is the starting block upon which everything else gets built.
Thoughts on startup financing, having raised ~ $330M
I recently got into F1, after watching the Netflix show, like everyone else during the pandemic. I'm a big Lando Norris fan.
The race is an orchestration, it's long and there's a lot that goes into making a full race happen. The pit is a necessary part of completing the race successfully and it takes a ton of effort and teamwork/coordination. The team puts a lot of hours into making sure it's completed without making a mistake. Once the pit crew does their job, they go back, sit down, wait, and prep for the next time that car comes in -- and then go through the process again.
The startup journey similarly is a long race and a capital raising event;
- Requires preparation
- Is difficult
- Involves a lot of people
- Is a necessary, but insufficient part of winning the race
So, we focus on it, give it the attention it deserves, but when it's done, we slap hands and sit back down focusing on the race. For us, it's a milestone, a necessary part of the process, but not a goal unto itself.
How to personally keep evolving as the business grows
It's not hard to grow as a leader, for me, because I'm always screwing things up. The constant process of falling on your face, getting up, and learning about what you tripped over is how I continuously evolve.
What's been most exciting
The thing that's been the most exciting to watch is seeing the organization grow into its own. We're a little over 400 people and celebrated our 5th-year anniversary as a business a couple of weeks ago. It's been great to watch people evolve within the business, see people's careers grow, and even see people leave the business to take what they've learned at Clearcover and apply it somewhere else. That keeps you coming back and staying motivated.
This is a game that takes 20-30 years to play well. You can't win it in a 2-3 year window, but you can lose it. You have to play a very long game, so there's still a lot of road for us to charter.
Recommended books 📚
Mind Wise by Nick Epley
How to Win Friends and Influence People by Dale Carnegie
Influence by

Robert Cialdini

Poor Charlie's Almanack

by

Charlie Munger
Two pieces of advice for reading: 1) read multiple books at the same time and don't be afraid to quit a book if you don't like it and 2) it's totally fine to re-read a book because you'll find you've learned something new with a different perspective.
--
Listen to the full episode on any of your favorite audio platforms! ⏬